Samsung (OTC:SSNLF) finally shed off the negative publicity from their Note 7 battery debacle. After boosting earnings guidance, the stock hit an all-time high on the prospects of seeing Q4 profits grow by 50%. Strong display and chip sales were enough to pad the company from losses associated with the Note 7. Samsung's strong and diversified product portfolio has made it one of the most profitable electronics manufacturers in the world. In fact, Samsung obtained 8,500 U.S. patents last year, the most of any company operating in the U.S. To put that into perspective, second place IBM (NYSE:IBM) obtained less than 8,100.
Q1 2017 is expected to be relatively slow. However, Q2 will see the release of the powerhouse Galaxy S8, equipped with fast charging, a curved AMOLED screen, edge-to-edge display, a dual camera lens, and no buttons. Though Apple has never been the "first mover" type, the S8 will have a significant head start and pose a serious threat to the iPhone 8.
"Apple's rivalry," aka. Samsung's new and exciting future product lineup, has led to control of 21% of global smartphone market share. Apple's (NASDAQ:AAPL) measly 12.5% pales in comparison. However, Apple controls 56% of the U.S. market share while Samsung has 27%. This gap widened from 47% vs. 36% in the third quarter thanks to product recalls from exploding batteries. Apple effectively grabbed 9% of the 10% share loss from Samsung.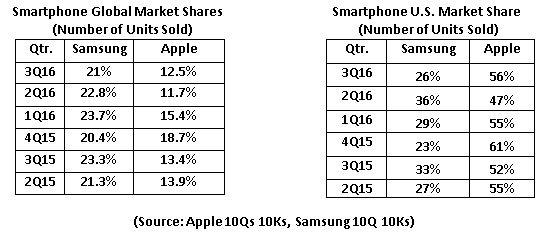 The good news doesn't stop at smartphones. Samsung is creeping into the electric vehicle market as well. Just the other week, Samsung announced the design of an electric vehicle battery capable of covering 372 miles on a single charge. It has a fast-charge feature allowing it to regain 310 miles of driving distance in about 20 minutes of charging. For context, Tesla's (NASDAQ:TSLA) Model S and Model X can get 265 miles and 250 miles, respectively, on a single charge. Likewise, Tesla's batteries regain 170 miles on a 30 minute charge.
If all of these promises prove to be reality, Samsung's EV battery stands to cause a major disruption in EV power management and storage. This is sure to keep Tesla CEO Elon Musk awake at night.
Controversial Corporate Control
Though Samsung has become a jack of all trades, it is difficult to wrap your head around their corporate structure. Samsung Group encompasses Samsung Electronics, Samsung C&T, Samsung Life, Samsung Card, Samsung Securities, Samsung SDI and Samsung SDS. The picture below will help you navigate the intricate and complicated web of ownership throughout each subsidiary.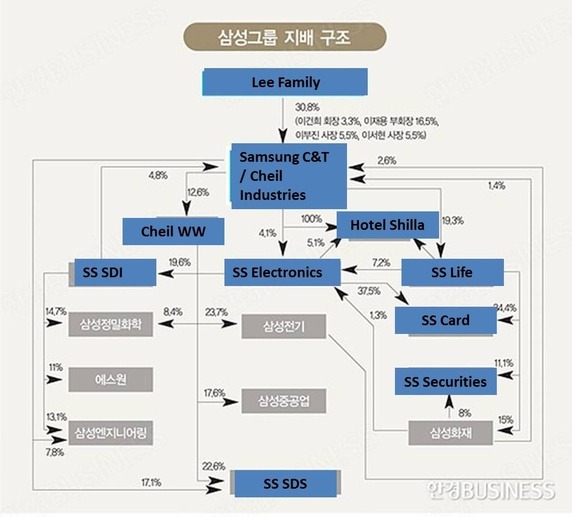 (Source: Bloomberg)
Anyone well versed in Korean? You literally need a map to navigate Samsung's organizational structure.
Even with all of the good news, the share price has softened due to Samsung's poor corporate governance record. Samsung is considering splitting into two companies – a holding company and an operating company. Jay Y. Lee and his family own 16% of the company's stock. Meanwhile, 13.7% of outstanding shares are sitting in the company's treasury. The split would de facto grant the Lee family 30% of the company's voting stock while controlling only 16% of the capital.
This whole "dual-company share structure" is a standard corporate control maneuver. It is often proposed under the guise of "ensuring long-term company growth based on the vision of the founder, not to be affected by the market's short-term earnings-driven pressure." When you cut through the jargon, dual class shares are all about separating control from ownership of the company. In this case, it is being pursued solely for the purpose of securing a succession plan for the ailing chair Lee Kun-hee.
Now, this is not the same thing as Kim Jong-il handing control of North Korea to Kim Jong-un.
Samsung has been trying to rush their restructuring plan through regulators before the Minjoo Party passes their antitrust corporate reform measures. These reforms look very unfavorably towards concentrated corporate control. Meanwhile, Lee's family is being investigated by a special prosecutor for possible quid-pro-quo payments of 30 billion won ($25 million) to a foundation backed by a friend of President Park Geun-hye. The payments allegedly led to the consolidation and merger of a Samsung subsidiary (Samsung C&T) with Cheil Industries Inc.
Despite reaching all-time highs and rising over 50% last year, activist investor and U.S. hedge fund Elliot Associates is demanding that Samsung increase shareholder value. Though they only own 0.6% of Samsung's stock, they have suggested a $26 billion special dividend payout, returning at least 75% of free cash flow to investors and initiating a $9.8 billion share repurchase program.
This recommendation is consistent with the street assessment on the fair value of Samsung's stock. Before Elliot's open letter, the stock had been undervalued between 25% and 35% via sales-based or book value-based models. On the other hand, it is overvalued by 10%-25% using either dividend-based or cash flow-based models. The sharp contrast would suggest that while Samsung's underlying fundamentals are strong, their public shareholders are not happy with the current dividend or cash flow payout from the improving outlook.
Undoubtedly, Samsung is a high-risk/high-reward stock at this juncture. That said, the company has a strong fundamental outlook and the risk is considered as idiosyncratic event risk. If the company can resolve the immediate legal and product issues and seriously address any of Elliot's recommendations, there is at least a 25% upside for its shareholders.
After all, Samsung may savor a sweet, ironic ending if a crisis sparked by a battery ends with a battery-charged triumph.